> 自動車ボデー開発支援 Automotive BIW Development Supports
自動車ボデー開発支援 
Automotive BIW Development Supports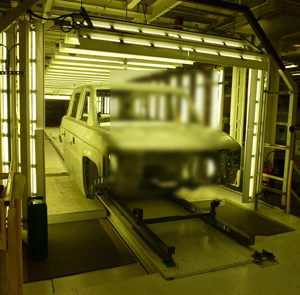 創業以来、当社は日本のモノ作り精神と技巧の海外への発信と伝播に努めております。日本の量産製造技術に30年以上従事した当社専属エキスパートが量産準備の精度・品質達成計画と試作評価並びに生産工場での量産前トライ支援と量産段階での品質・量産効率の改善を支援いたします。我々はこのエキスパート集団をMEUと呼んでおります。MEUとは文字通りManufacturing Engineering Unit、又は自動車ボデーの関係者からはMetal Match Expert Unitと親しまれております。MEU技術提供サービスは国内外の自動車メーカー様十数社をはじめ各方面から固有技術力と異文化間コミュニケーション力の高さにおいてご評価頂いております。
TKA is focusing on its efforts to deliver our Japanese manufacturing expertise spread out to global communities. Our Japanese technical experts with over 30 year experiences in manufacturing sections are assigned to assist mass production quality, throughput, lead-time compression and productivity improvement known as Kaizen. These experts are called as MEU – Manufacturing Engineer Unit or Metal Match Expert Unit – widely accepted by a number of first class automotive OEMs.
コミュニケーションは難しく同一言語の仲間において誤解は生じ易いものです。モノ作りという共通の目標を掲げても異文化・異言語での意思疎通は難しく車作りの「すりあわせ」がともすれば損なわれ質量そしてスケジュールに影響が及びます。我々はプロジェクトの期間に通じて双方向のコミュニケーションに努め知識と経験の押し売りは致しません。
Communication is always priority even within homogeneous peers. It would get even tougher for multinational team members with different cultural and linguistic backgrounds. Concurrent precise consensus known as Suriawase is pivotal to automotive production and its launch preparation. Any failure for timely team consensus may go straight to adverse impact on quality, throughput and timing as required for planned launch. TKA is committed not to hard-selling its technical principles without bi-lateral understanding. Again, communication is No. 1 priority.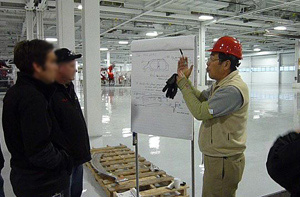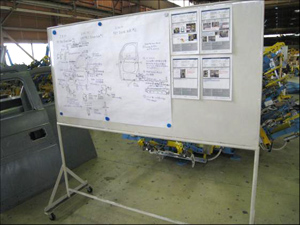 当社はコミュニケーションを特に重視しイーゼルボードを元にした現場での原因分析と打開策について徹底した議論を即日行います。その場で関係者の合意を促し責任分担の明確化を図ります。
In each of the program execution, on site face to face communication is our emphasis and key driver for success. Daily kickoff meeting and wrap-up review are enabled by our MEU leader explanation and Easel board illustrative clarification of root cause and countermeasure clarification for team consensus.
---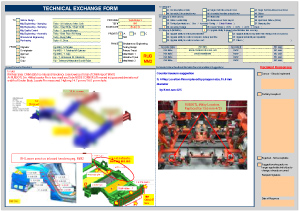 他言語での意思疎通は図解が効果的でイーゼルボードによる説明の後、Technical Exchange Form (通称TEF) を関係者に即日配布し合意内容の再確認を致します。その後LogSheetによる徹底した進捗管理を行うPDCAを根付かせます。
Combination of illustrative and descriptive expression is the best avenue to avoid misunderstanding. Once issue ownership and timeline are specified per team agreement, our documentary notice known as TEF (acronym of Technical Exchange Form) is distributed to persons involved to reconfirm the team direction. Such TEF action items are closely monitored through log sheet update to promote intensive PDCA evaluation.
---