> MEUサービス – 生産試作 MEU Technical Services – Launching
MEUサービス – 生産試作 
MEU Technical Services – Launching

自動車ボデー生産準備:メタルマッチ不具合解析活動
Body In White Dimensional Quality Development Metal Match Slow Build Root-cause Assessment
規格単品を期待しているだけでは良品ボデーを短期間で作り込む事は叶いません。単品への過度な公差配分は予算と時間の制約難しく、下流から上流に遡るスリ合わせ作業が必要になる訳です。
Single part quality plays an important part of BIW dimensional integrity but cannot be perfected within time and budget constraints. It is therefore necessary to trace root cause backward from body to subassembly to detail stamping for correct realistic tolerance distribution.

TKAはスクリューボデーなどの伝統的なオフライン試作活動又は量産治具上でのオンライン試作を通じて不具合の解析を行い、問題解決の優先順位をつけて早期品質玉成をお手伝いします。
Reverse engineering analysis using offline 'Screw Body' part coordination study and/or online 'Metal Match' slow build exercise is our recommendation to prioritize effective counter-measures per proper root-cause identification.
メタルマッチ作業工程の一例
Metal Match Exercise Process Sample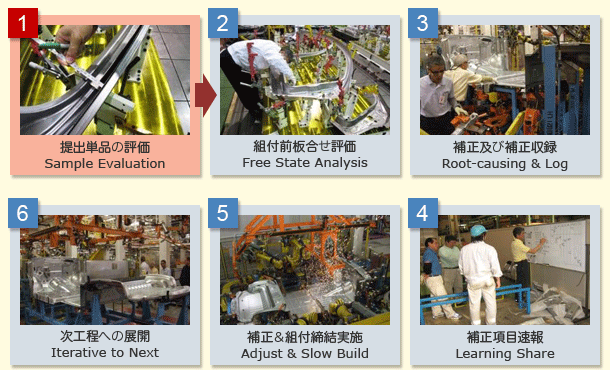 メタルマッチ活動に於けるフィードバックは金型に対する不具合修正折込は元より量産治具不具合修正要求、基準配置並びに溶接打点順位の見直し、測定点の追加・削減さらに公差配分の改善を含みます。メタルマッチ実施時期により更正内容にも変化があるのが常です。プロジェクトによりますが、通常300件から500件のフィードバックを実施します。
Metal Match learning consists of various manufacturing elements such as die corrective actions, assembly tooling adjustments, datum coordination revision, weld point sequence optimization and retolerance proposals. Leaning contents vary depending upon when the exercise is held during launch period of time. Initial focus is normally set on driving dies to nominal and tolerance change can be only allowable during homeline phase. In most of the cases, 300 to 500 learning items are shared with stakeholders per any one launch.
---